WHEN YOU THINK OF A BROOCH, USING YOUR GRANNIES CARDIGAN SPRINGS TO MIND. WELL NO MORE! HERE WE ARE GOING TO SHOW YOU JUST A FEW FUN AND INVENTIVE WAYS TO INCORPORATE BROOCHES INTO YOUR MODERN WARDROBE AND LIFESTYLE.
Here's your first idea. Wear a brooch in your hair!
This photo was sent to us recently from a happy customer who used the large flower pearl brooch that she bought from Dear Rose, With Love to make this stunning hair piece.
Using a variety of clips, grips, wire and hair combs it's a lot of fun to make your own unique hair accessories using vintage brooches, necklaces and other odds and ends. A good way to pick up cheap components to make your own accessories it to search for people selling vintage parts for crafting - typically these items will all have defects - but with a bit of tlc you can craft them into something new for a fraction of the price of buying perfect vintage pieces.
Who would have thought that a pearl necklace and 2 vintage brooches could be fashioned into such a beautiful accessory?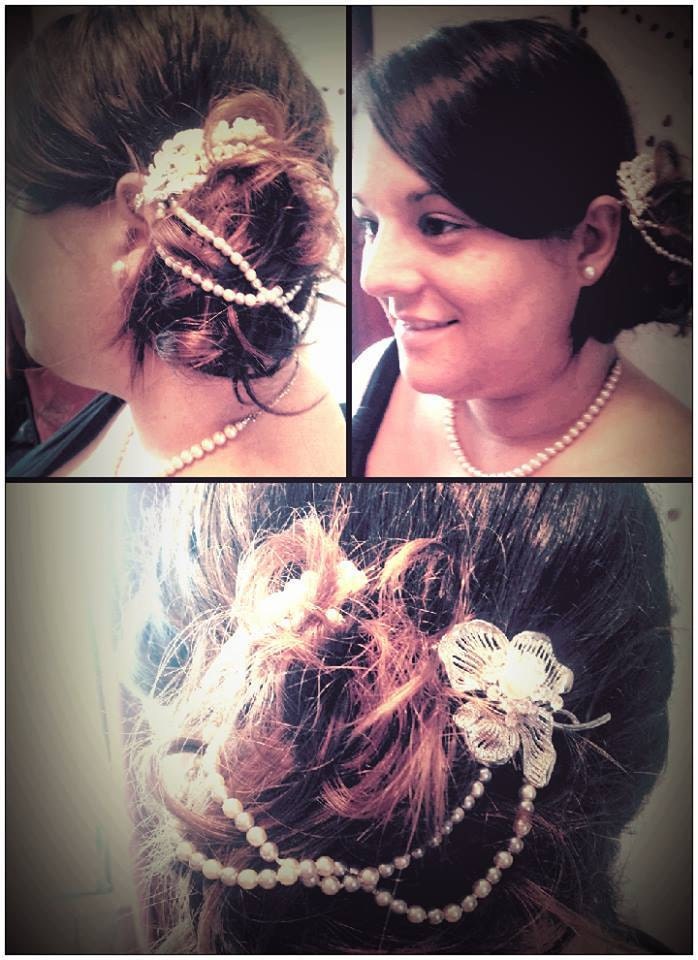 IDEA NUMBER 2
Wear your brooch on your scarf! Brooches on scarves don't have to be old fashioned, mix it up a bit and see what you can come up with using modern day prints and fabrics.
This is a brooch from my personal collection, he is a Mexican inlaid bird brooch, and here he is mixed with a sugar skull scarf and aztec print top. 
Sometimes you just need to be brave and try things, brooches are great to experiment with and combining them with different scarves and tops is a great way of updating a look without breaking the bank.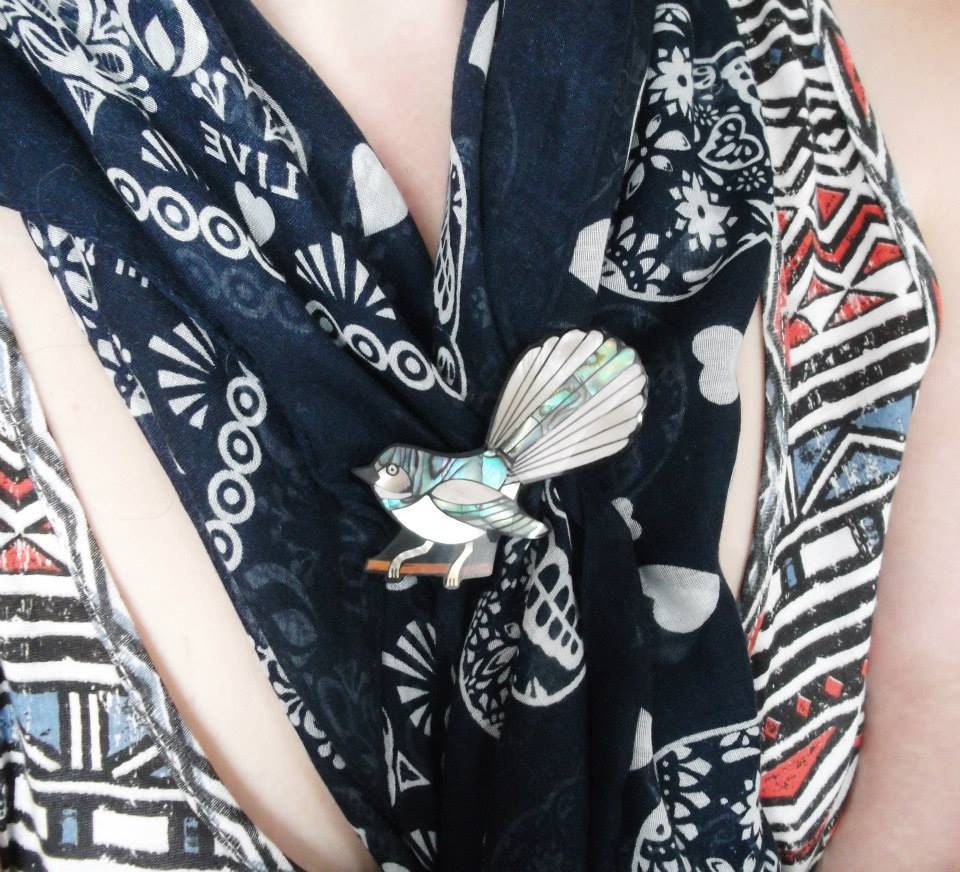 IDEA NUMBER 3.
Try wearing your brooch on the collar of your shirt. I think it makes a great alternative to a necklace, and is still acceptable for the work place. 
I chose this little amethyst art deco brooch to go with my shirt because of the shape, it fits in just nicely and matches the floral print on the shoulders! Play around with shapes and style, colours and positions, to create your own desired look.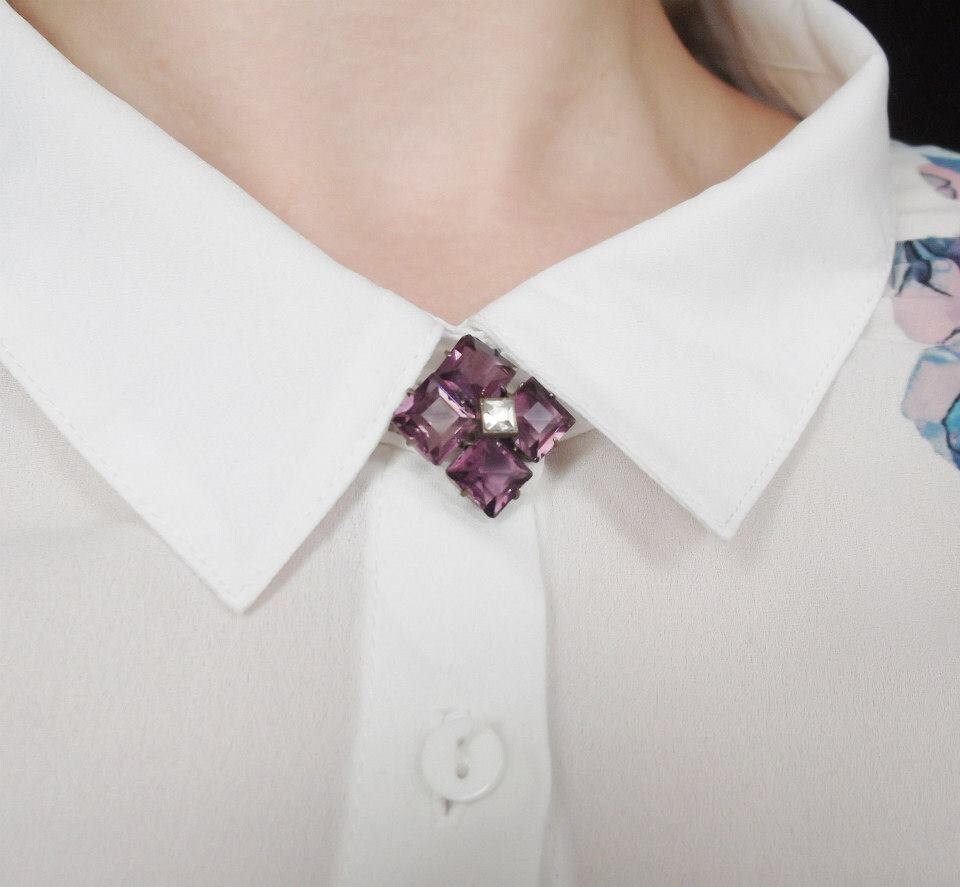 IDEA NUMBER 4.
Wear your brooch as a necklace. Fasten the brooch and loop a chain through, and hey presto - a new necklace! 
This is my favourite tip for an alternative way to wear brooches. Unusual necklaces can be really pricey, but if you make one out of a brooch it's cost effective, multi-use, and totally original.
For this, you want to make sure the design of your brooch and the pin are vertical, horizontal pins do not sit straight on the chain. Also, if the pin is exposed it's a good idea to pop a little bit of plastic tubing on the end to avoid it jabbing you (you can use the plastic earrings backs for this - or if you buy a brooch from Dear Rose, With Love you can request this and I'll pop one on the brooch for free!)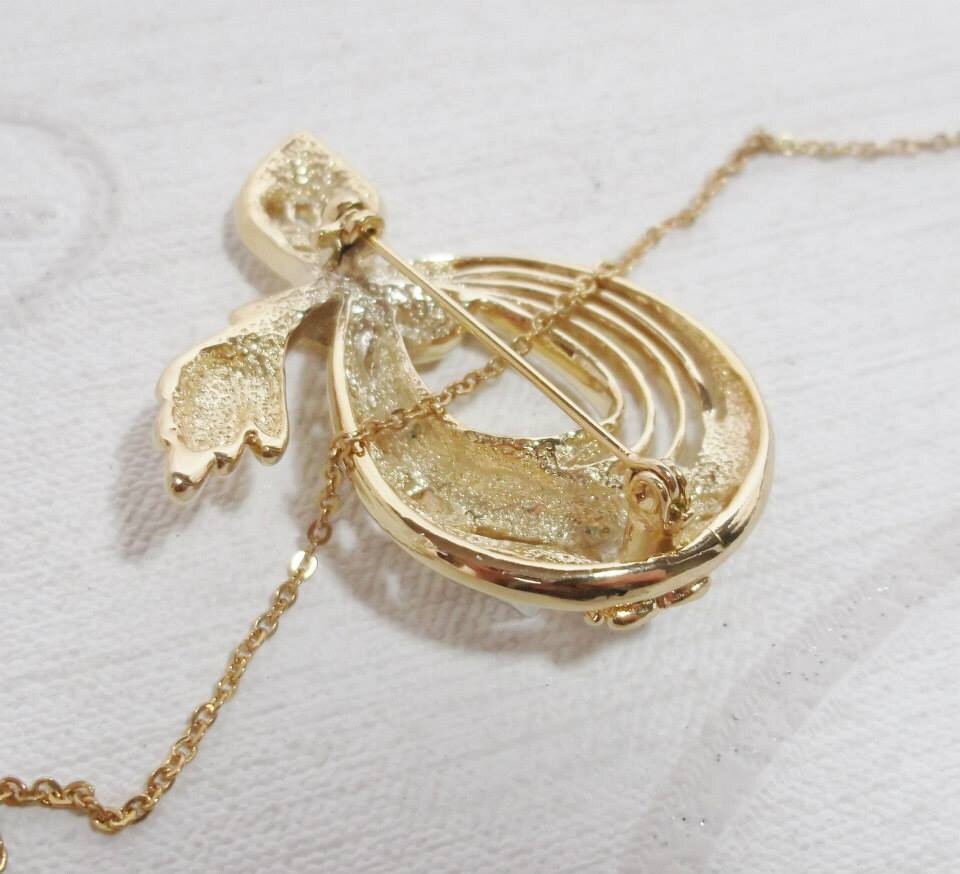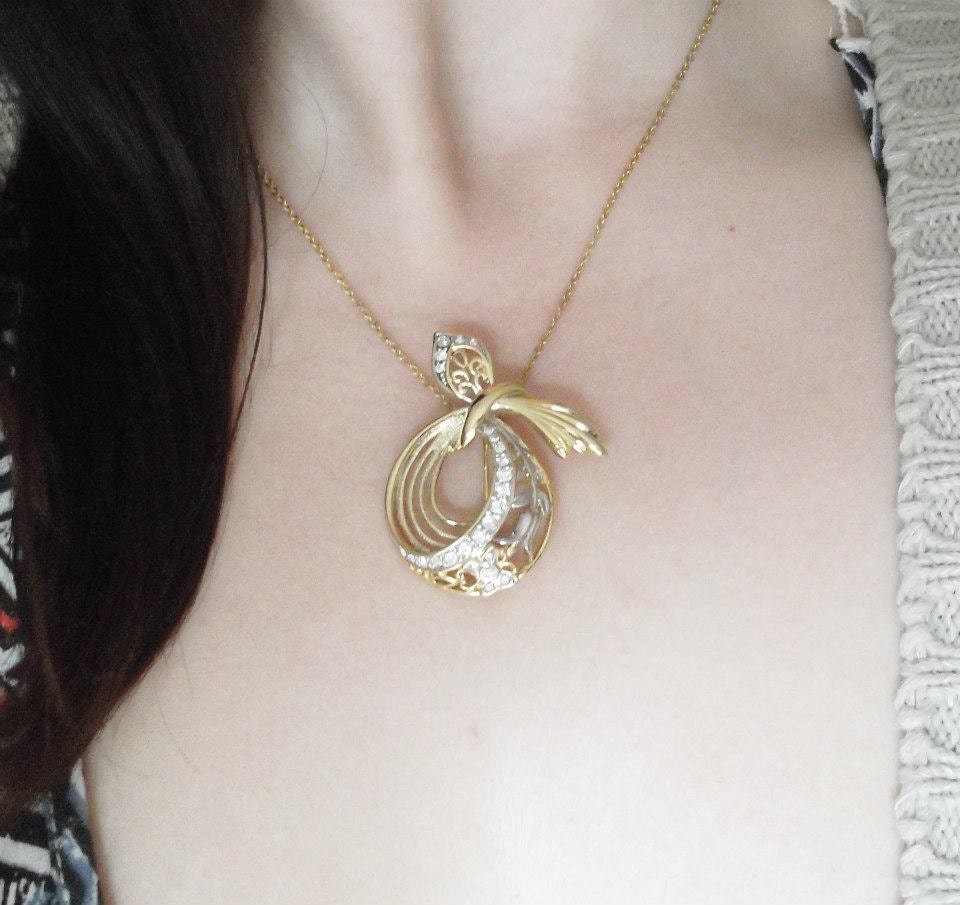 IDEA NUMBER 5.
Use them to embellish your home! I like to pin them to cushions (obviously this is best for display cushions, rather than ones that you use) . It's fun trying to match up brooches with patterns on the fabric to create a statement work of original art for your home, They ALWAYS get noticed by visitors.
This is also a useful idea to take note of if you collect brooches, as it serves as a unique way to showcase your collection and keep them safely together.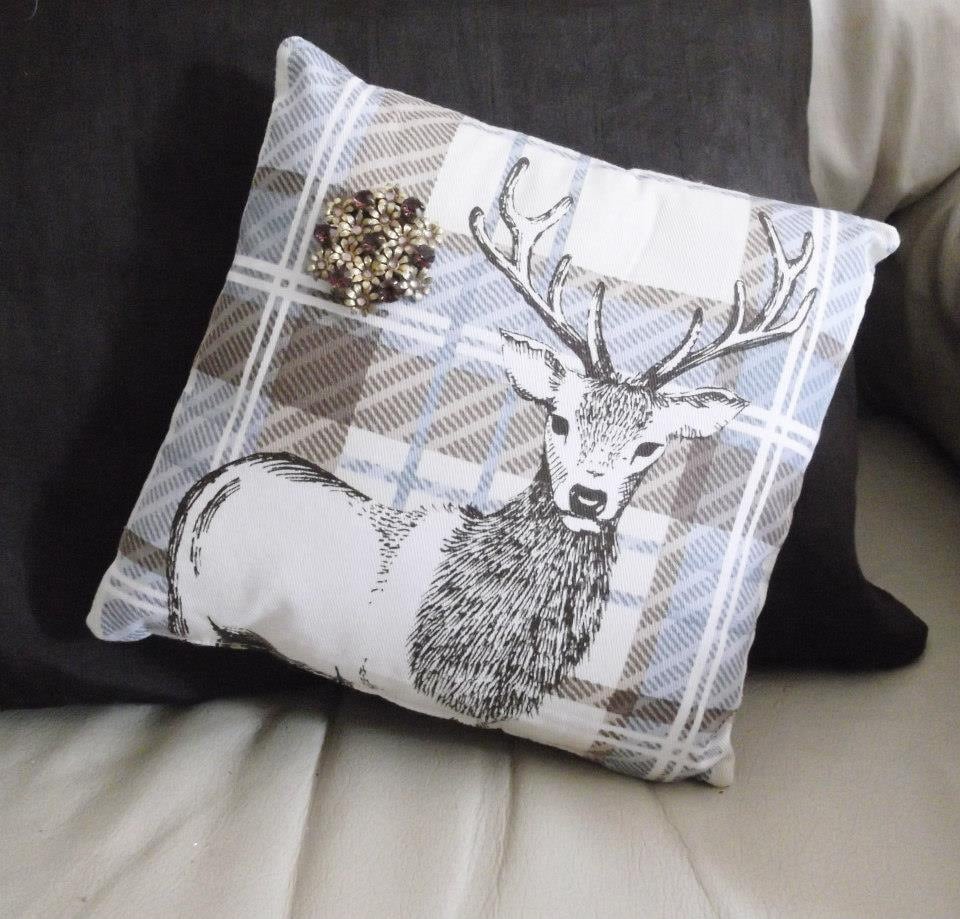 IDEA NUMBER 6.
Add them to your hand bags. A gorgeous brooch can totally change how a bag looks, it can transform an old bag into a new one, or it can alter a bag easily to match lots of different outfits. 
This is my own evening bag, it is a just little lace clutch that I bought on the high street, but look how amazing it looks with the big crystal aurora borealis vintage brooch as a center embellishment. 
It's best to keep your brooches on bags which are hand held, or close to your body - just so they don't get caught and come off. Some brooches are made with safety chains attached, these ones are especially good if you're worried about losing it due to catching it on things.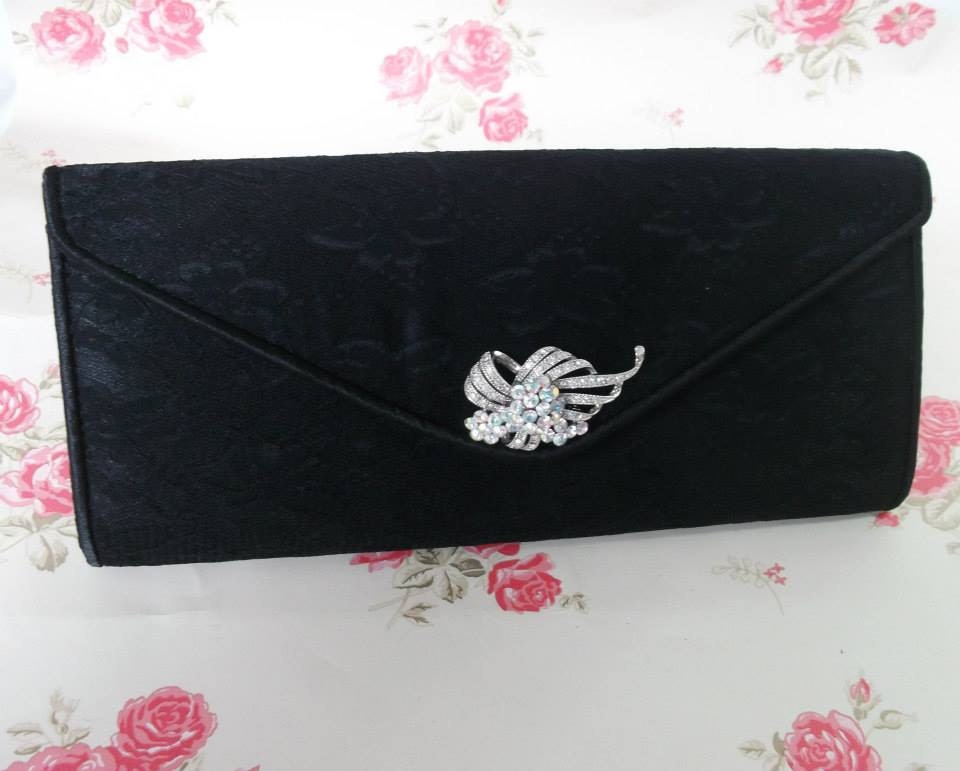 IDEA NUMBER 7
Display your brooches! Each brooch is a little work or art, why hide them away in a jewellery box?
A good idea is to buy a photo frame, wrap fabric around the glass middle (some padding underneath is good too) and then pin your brooches to the fabric. This creates instant original art to hang on your bedroom wall, or anywhere else you can think of.
This is my jewellery box, which I leave open so I can see my lovely brooches all of the time.